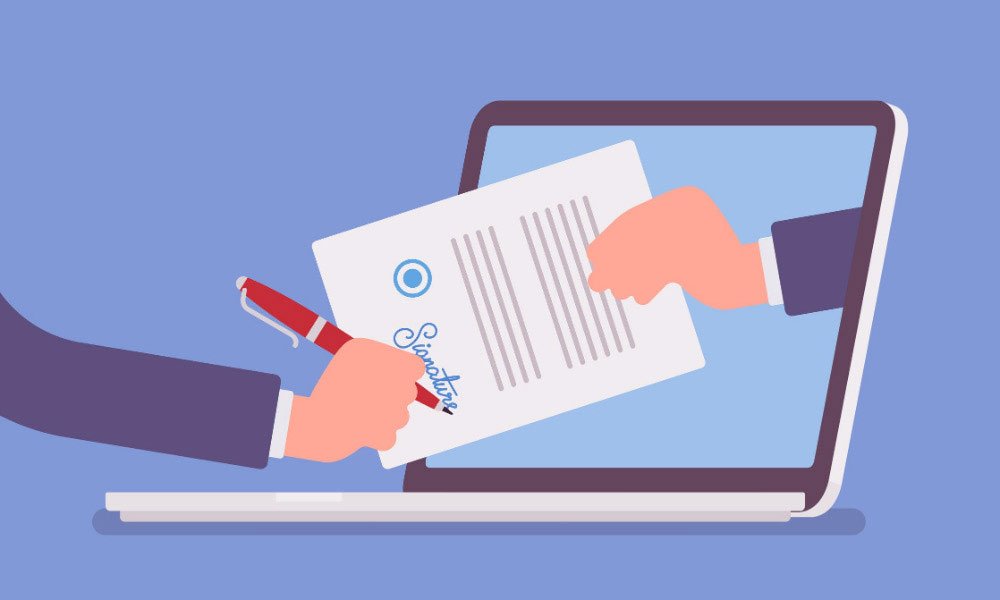 With the increasing need for high-quality and productive work with documents and customer service, management technologies are constantly evolving. With the advancement of smartphone technology and apps, it has become much easier to sign documents. Most of the business processes of various enterprises take place in electronic form, people use the Internet to obtain the necessary information, government executive authorities implement their functions and provide services using web solutions. Electronic signature has become one of the many tools to simplify document management. Having the ability to conclude an agreement without having to fiddle with papers, stand in line, and waste your time, e-signature immediately became one of the main features of every advanced company. For those who want to make their business better, faster, and easier and get access to optimization and workflow automation tools, you should contact the specialists from SignNow for help. This platform provides its customers with the most convenient esign service as well as many other irreplaceable features.
What is esignature and what is it for?
An electronic signature (esign) is a special attribute of a document that allows you to establish the absence of distortion of information in an electronic document from the moment the esign was formed and to confirm its ownership to the owner.
Esign is responsible for closing and approving the document. By applying an electronic digital signature, you approve any document, report, and send it for execution. Thanks to the use of an individual electronic digital signature, after the document is closed with your signature, it will not be possible to change it – it will be saved in the form in which you signed it.
Thus, the electronic digital signature performs the function of an encryption key, which allows ensuring the necessary integrity of an electronic document and ensuring its confidentiality, inaccessibility to third parties.
Benefits of services from SignNow
Signing documents online with SignNow has many benefits.
Quick to start and easy to send
Software from this brand is widely popular, not least due to its ease of use. The built-in training guides, as well as the friendly user interface and functions, help those who have never used this kind of Internet tool to quickly adapt to solving all the problems they need. Millions of users choose this particular service because it perfectly adapts to any working mode of the team and is capable of performing a dozen different services thanks to the widest arsenal of simple but effective functions.
Every feature SMBs and enterprises need
SignNow will become an effective assistant in any area of ​​robots with clients or documents. A set of various useful functions of the application will automate the work of an enterprise and also establish a convenient two-way communication with customers or business partners. The main advantages for improving work efficiency will be the numerous features that make the work process smooth and structured. It becomes possible to share files and request signatures directly online, as well as automatically save updated files to shared folders. You can also add multiple signatories to the same document to synchronize the work of all team members. Cloud-based e-signature services are available for both giants and small and medium businesses.
Best value at the most competitive price
Customers can choose from several tariff plans, each of which is suitable depending on the activity. To the common feature for each of them to leave their e-signatures, various unique properties are added.
Business plan
Functions such as a log of recent actions and a history of changes become available, the ability to create an unlimited number of templates, as well as various features aimed at communication (chat, additional languages, cloud storage integration)
2. Business Premium
In addition to the mentioned bonuses of the previous tariff plan, here the service package becomes wider. Even more commands are added (grouping documents, sending in bulk, etc.), as well as functions aimed at personalization.
Enterprise
This expansive plan combines the features of the previous two packages and also adds
Automatically route multiple documents

Calculated fields

Conditional fields

Request Payments

Signer attachments
3. AirSlate Business Cloud
The most advanced package with options to date. Allows the client to integrate SignNow with many CRM / ERP programs such as Microsoft Dynamics, Salesforce, and NetSuite. Some of the most powerful business tools available (most advanced PDF converter, additional security layers, etc.)
SignNow pricing starts at $ 8.00 per feature, per month (offers a free trial). There is a free version.
Mobile app
One cannot but mention such an important topic as the ability to have access to an electronic signature directly from your smartphone. In order to start using all the benefits of SignNow remotely on your phone, just download the application from the Google Play. The list of functions remains unchanged from the regular version. It also has a complete set of tools at your service including the ability to import files from a variety of sources, including email, Dropbox, Google Drive and SD cards. The interface of the mobile application keeps the quality bar and looks as simple and understandable as the main one. The application will help save time and will also provide an opportunity to fully participate in the labor process while being far from the office.
You can use SignNow and the signing tools separately, but when you use them together, you can significantly streamline your workflows.
In addition, SignNow is SOC II, HIPAA, GDPR, and CCPA compliant and provides its customers with an additional layer of security with two-factor authentication and full logs.
Follow – https://techhipo.com for More Updates