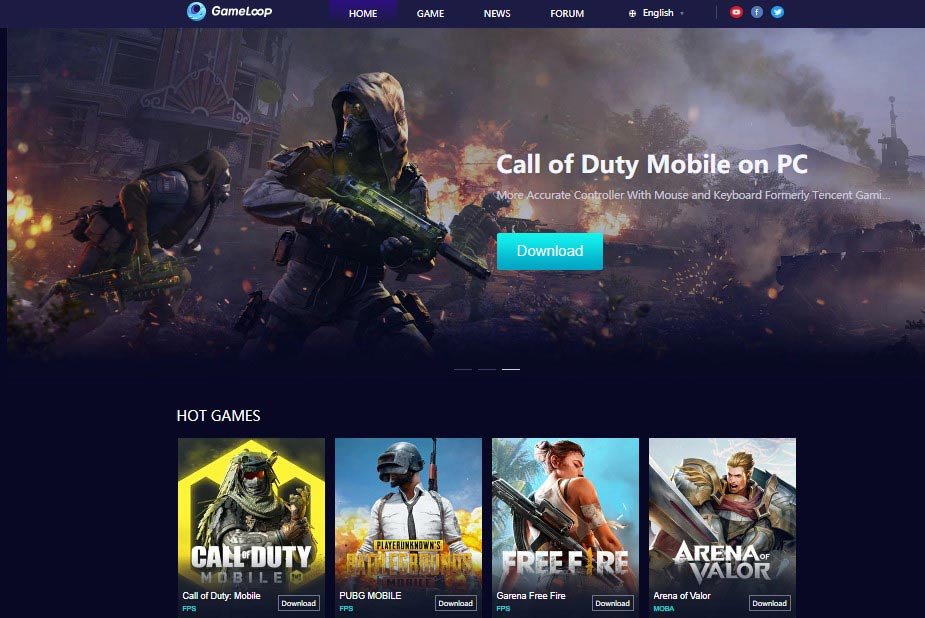 Gameloop was earlier known as Tencent's gaming buddy. It is a popular emulator that helps you to play mobile games on your PC. It helps you to get access to games like Call of Duty:Mobile, GarenaFree Fire, Subway Surfers, PubG Mobile, Clash of Clans, and many others on your device.
You can simply play any mobile game on your PC with the help of the emulator. There are still some individuals who have particular questions about the emulator and how to use it. If you are looking for a way to play any particular game on your device,as it will be perfect.
When you use the game, you'll find that it gives some extra features that will help you to enjoy the game. It means that you can accelerate the network and it also comes with an anti-cheating system.
What is Gameloop Emulator?
Gameloop is a computer PC emulator that can help you to play all the mobile games on your computer or laptop. You can find that it is from Tencent which is a major developer of the games like Call of Duty:Mobile, Arena of Valor, and PubG:Mobile.
It lets you play a wide range of mobile games on your device. Even if the game does not have any affiliation with the consent, you can still play it. It means that you can play the games like Saint Seiya Awakening, Brawl Stars, and GarenaFree Fire.
It ensures that you get access to a large library where you can play a wide range of games. You will also get an anti-cheating system to ensure that all the individuals in the game for real.
You can also get features like voice chat or live video to ensure that you can play your favorite game without any issues. So, you can easily to in the game settings and ensure that you can accelerate the network as per your requirement to enjoy playing the game.
Is Gameloop Banned in India?
After the ban of PubG mobile in India, many players have been wondering whether it is blocked on the Gameloop emulator too. As of now, you can see that the Gameloop Emulator is still working in India. It is the Chinese origin retail as the emulator is old by owned by Tencent gaming.
It has some connection with China. There is no information about the ban on the game look from the Indian government. You can't play games like PubGMobile or PubGMobile light through the use of Gameloop.
There are many other Battle Royale Games that are available, which you can play on the emulator. You can play other games like GarenaFree Fire,Call of Duty Mobile, and many others. The best alternative is the Call of Duty Mobile as it runs successfully on the emulator.
What is New Features in Gameloop?
Here are some of the new features in Gameloop that helps the users to enjoy playing the games on the emulator. It ensures that it will continue to enjoy these games with some new features that make it convenient to get better access and experience.
Support Multiple Languages
Fraud Prevention
Customizable Smart Keyboard
Free Installation, Simple Setup
Support Multiple Languages
Configuration settings
How to download Gameloop For PC?
The users who wish to download Gameloop for PC should consider following some simple steps. Here are some of the things that you have to do to ensure that you can easily download the Gameloop for your computer.
Click on the Version
Wait for the Download to Start
Install the File in your Device
Steps to download Gameloop for PUBG Mobile update 0.18.0
If you wish to download PubG mobile update 0.18.0 on your device, you have to follow these steps.It will ensure that you can easily download the game on your device without any difficulties.
Visit the Official Site of Gameloop
Select the PubG Mobile Game
Select the region to download the PUBG Mobile update 0.18.0
Click on the Download button to save it on your PC
Install the game and open the emulator
Once you have downloaded the application you have to ensure that you follow some simple steps to complete the process.
It's important to understand that the game will run accordingly. It means that if you have proper system requirements, you can easily run the game on your device.
The individuals whose computer does not meet minimum requirements in it can cause issues. So, you should be aware of these factors.
Gameloop Latest Version Free Download for PC
To download the latest version of Gameloop on a device, you have to follow some simple steps. It would be difficult when you follow the steps mentioned here as it will be basic. So, ensure that you download it from the official site to get a trusted version.
Wait for Download to start
Install the setup in your device
What makes the Gameloop emulator reliable?
Another thing that makes the Gameloop emulator so popular is that it helps you to play all your favorite mobile games. As you already know that it is from the Tencent Company, but you can play games with all other developers.
So, it is not limited to the games from Tencent only. You can easily enjoy playing all your favorite games on the emulator without any issues. It also offers features to help you get additional settings in the Gameloop emulator.
Technical details of Gameloop
The thing you will like about the Gameloop is that it offers network acceleration. It means that you can easily improve the speed of the network in the game to ensure that you get a low ping. This will ensure that you won't face any lags in the game and ensure that you can enjoy playing it.
Not only that, but you can also tweak some hardware and graphics settings to ensure that your game run smoothly. These are some of the technical details that will help enjoy playing the game.
Conclusion:
These are some of the things that you should know about the Gameloop emulator. You can easily find that it can help you to play your favorite games without any issues. Everyone should consider particular information about the emulator, so you can use it effectively. So, it can surely help you to get the best results when playing the game.