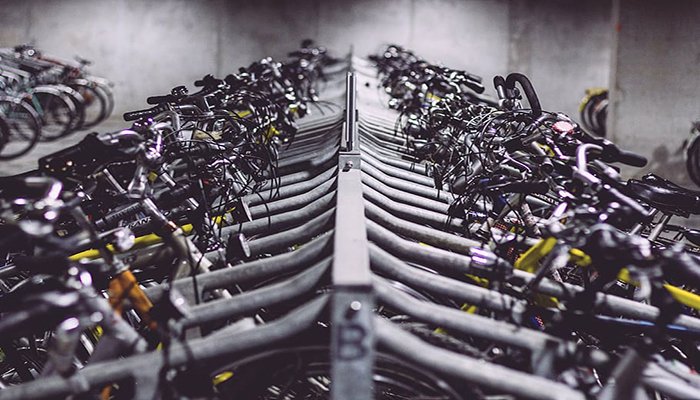 Bicycle supply chain
The upstream industry of the bicycle industry is mainly the production and manufacturing enterprises of spare parts and raw materials. Among them, non-core components, such as handlebars, brakes, wheels, saddles, shock absorbers, etc., have low production threshold, fierce industry competition, sufficient supply, weak bargaining power and low enterprise gross margin level. Core components such as frames, forks, transmissions, motors, batteries, sensors, etc., have high technical barriers and are generally mastered by world-renowned bicycle parts suppliers and professional motor companies, resulting in higher profits. World-renowned bicycle parts suppliers include Michelin, Shimano Group, Schwalbe, Quality Bicycle Products, etc. And professional motor and battery enterprises include Bosch, Bafang, etc.
The downstream of the bicycle industry is mainly brand owners, distributors and end consumers. The mid-to-high-end market is dominated by large European and American brands, while many regional brands compete in various regions. Due to the differences in social culture and economic development of countries and regions around the world, there are differences in the products suitable for each country and region. Consumers in developed countries such as Europe and the U.S. focus on bicycle safety and durability when purchasing bicycles, prompting bicycle brands and top manufacturers to give priority to bicycle products with better performance and reliable quality for promotion and sales.
Current bicycle industry conditions
With the increasing attention to energy shortage and environmental protection, the European Union has launched the "European Green Deal", the US implemented the Green New Deal, Japan and South Korea have pledged to achieve net zero emissions by 2050, and China has proposed policy of "carbon peak" by 2030 and "carbon neutral" by 2060.
Bicycles are being promoted as a green transportation system and form an important part of the global public transportation system. Some countries, such as the United States and France, have introduced bicycle purchase subsidies and other incentives, which have played a role in promoting the development of the global bicycle industry. In addition, the global spread of the new crown epidemic has also changed the travel patterns of the general public to some extent, with people choosing to avoid public transportation and instead use bicycles for short trips.
The global bicycle market is currently in a phase of rapid growth and expansion – driven by many factors, rooted both in fashion and economical efficiency. According to a report by Grand View Research, the global bicycle market will grow from to $127.83 billion by 2029, adding more than 50% to its current size.
Due to the differences in economic development in different countries or regions, there are also differences in the industrial division of labor in the bicycle industry in each country or region. European and American bicycles are well developed in terms of brand recognition and sales channels. Countries and regions with relative cost advantages, such as South and Southeast Asia, have basically contracted the world's major bicycle production capacity.
Electric bicycle market disposition
The global e-bike market size has been estimated at $35.69 billion in 2021 and is expected to grow at a yearly rate of 12.6% to 2030, according to the research published by Spherical Insights & Consulting. The Asia-Pacific region is emerging as the global leader in this sphere.
At present, the global major electric power bicycle manufacturers include Merida Industry Co. Ltd, Derby Cycle AG, Specialized, Accell Group N.V., Fuji ta Bicycle, Trek Bicycle Corporation, Giant Manufacturing, Hero Electric, Yamaha, Mahindra & Mahindra Limited, Bayerische Motoren Werke AG (BMW), Riese & Muller GmbH, etc. The share of major manufacturers is over 54%. Countries with high penetration of electric-assisted bicycles are Japan, Netherlands, Belgium and Austria.
Bicycle industry barriers 
Bicycle industry products need to combine mechanical dynamics, fluid dynamics, material science, electrical science and other multidisciplinary fields to carry out research and development from parts to the whole bicycle. There are high technical requirements for the development and design of power, transmission, safety, shock absorption, control, appearance and material selection, especially for mid- to high-end bicycles, which are more stringent. As consumers in the end market demand higher performance, quality, safety and ease of operation, bicycle manufacturers need to have strong technical research and development capabilities and advanced production processes to develop products that meet market demand.
Competition in the bicycle industry is fierce, and the scale effect of production in the industry is obvious. Bicycle industry businesses can only achieve the scale effect if they reach a certain production scale. When production reaches a certain scale, the increase in production helps to reduce the average costs, which in turn leads to increased profitability. Currently, the bicycle industry is facing the risk of international trade uncertainty and material price instability. Only enterprises with strong cost control ability and scale advantage can sustain development in this fierce market competition.
In order to ensure the quality of their products, bicycle brands tend to be very strict in their supplier audits. After the bicycle supplier has passed the brand's audit and entered the list of qualified suppliers, it needs to maintain stable quality and good after-sales service in order to establish a long-term, solid relationship with the brand. Once some first company establishes a stable partnership with a brand, that brand gives priority to this supplier in their further selection to avoid uncertainty. Thus it is difficult for potential competitors – such as bicycle manufacturers who enter the industry later – to compete meaningfully for market share.
In a global market marked by complications of both economic and political nature, the bicycle industry still has serious chances to grow even bigger. And for residents and visitors of New York City there is even a wonderful opportunity to become a cyclist for a while without too much hassle thanks to Central Park Discovery, which rents bikes and scooters.
Follow – https://techhipo.com for More Updates