The primary objective of any training is to make the workforce skilled as per the market needs. But, the manual approach was not bringing the results businesses were looking for. But, all thanks to enterprise software development service providers, now training has become something every employee would like to be a part of in their professional life. It's much more than upskilling and getting to know about updated policies. 
The evolution of the learning management system has made the entire training process employee-friendly. Yes, it does come with several features and benefits, but one of the best ones is that it can get integrated with third-party platforms as well. So, it gives businesses a lot more flexibility in terms of conducting training and getting the results they are aiming for in the long. 
We are here to discuss one such integration that has taken the training process to a completely different level. You guessed it right, custom LMS development with zoom integration. 
What It Brings To The Table?
We all know how we can now connect with other employees, clients, and customers remotely without any hassle. Zoom LMS integration brings a lot of that to the table. It gives the trainers an additional hand to organize video conferencing through LMS. The respective meeting can then be broadcasted to the team or individuals in different locations. How good is that?
Without this integration, one had to organize or host meetings separately, but now it can be done with the assistance of the respective LMS tool. This training software allows you to create, administer and deploy remote meetings through Zoom in the most convenient manner. Not only this, but it also helps in enhancing engagement among the learners and boosts retention rate in terms of knowledge through its remote classes attributes. 
Most importantly, it doesn't require you to get registered to Zoom. You can work on all the aspects related to Zoom just through your learning management system. So, whenever you are thinking about investing in LMS development services, do not forget to get them integrated with Zoom. 
Easy To Integrate And Manage
If you are worried about the complications this integration can bring, then you have nothing to worry about. Organizing Zoom sessions through the Learning Management System is as easy it can get. The essential thing is that for doing the same, you don't need to install Zoom on your device. 
As and when the course is updated in your Learning management system, you just need to add a webinar session to it. You need to provide the details related to the course, and in a matter of a course, your remote session gets scheduled. This can vary from one LMS to another depending on the kind of corporate learning management software the business is using for the respective purpose. 
Adding other users to the webinar is also very easy on this platform. You can get all the existing users added to the webinar in a matter of seconds and kick start the session. This can not only make the session engaging but also save a lot of time in the process. This shows how easy it is to manage Zoom integration with LMS. Now let's assess how it can assist managers in creating engaging experiences for the learners. 
How Zoom LMS Integration Can Create Engaging Experience For The Learners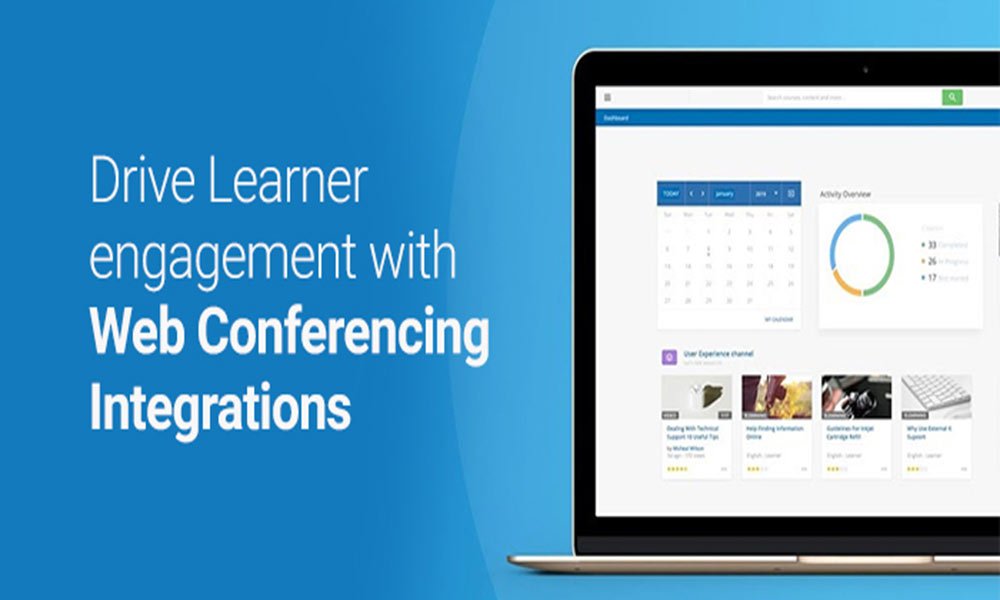 As and when you infuse corporate LMS development with Zoom integration, you are benefited from a wide range of virtual classroom attributes. These attributes help in making the training sessions engaging and interesting all the way through for the learners. Let's discuss these features and check how they can help in making the learning process fun:
Share Your Screen Real-
With the assistance of LMS Zoom integration, you get to share your files and content without any hassle. All this is possible in real-time with the assistance of the screen sharing attribute. It can be done through any device with a strong Internet connection. This feature allows the learners to communicate with ease remotely. You can showcase the work done live in the form of presentation, designs, and others to several at one go that can save you quite a lot of time in the process. 
Managing Attendance Got Easier-
Another major attribute that you can avail with Zoom LMS integration is that you can check who was part of your meeting. As and when the meeting is completed, you get all the details emailed to you. This allows you to get a hold of the learners who are showing interest in your sessions and eventually making progress. You might also be able to know who is not going anywhere in this training and requires a different approach. 
Organize Video Conferences
 Another attribute that makes the entire process of training a whole lot more engaging is video conferences. Thanks to an LMS development company for integrating Zoom in this platform as it helps in organizing face-to-face meetings. So, one can be a part of any meeting from any part of the world. It makes the training a lot more interactive, and the results are a lot better than you expect.
Recording:
 This integration also helps in providing convenience to learners around the world. If for any reason, they are not able to pursue the video meetings at that point, then they can get to record the respective session. The recorded meetings can be used in the future and make it easy for the trainees to remain updated with all the discussions that took place in the missed session.
Whiteboards:
 Zoom integration with LMS development also brings engaging whiteboards into play. It allows you to provide the content to the learners and help them with the drawing accessors virtually to present their view and concept. It helps them take part in the process a lot more convincingly and confidently.
 So, these are the attributes that make the training process engaging and interesting with Zoom-LMS integration. Now let's assess the benefits we can avail through this collaboration.
Perks of LMS-Zoom Integration
Now, you might be thinking about how you are going to benefit from this integration? Before you think ahead, check out the below-mentioned pointers to avail complete clarity on the same: 
➔ The biggest benefit that you can have through LMS and Zoom integration is in the form of face-to-face integrations. This allows you to conduct training in an interactive way. It allows the members to connect with each other and share their views. This promises to be engaging and interesting in many ways.
➔ Another major advantage that you avail with the integration of Zoom in your eLearning platform is that it makes the training process a lot easier to manage for both the learners and trainers. For trainees, it becomes easier to record sessions and be a part of them at their convenience. They don't need to sign in with Zoom. For trainers, they can easily track the progress of the trainees to design better strategies.
➔ Lastly, it can help the trainers to make the entire process of training engaging that enhances the chances of getting the course completed successfully a lot more. Features like video conferencing, whiteboards and screen-sharing make the process interesting that leads to better results. 
Summary
Hopefully, now you are clear with the impact of the Learning Management System with Zoom Integration. It makes the training process engaging and result-oriented. You can always reach out to reliable LMS developers to help you with a live demo first, and then you can take things ahead a lot more confidently. Good Luck!
Author's Bio:  Alicia works with the editorial team of A3logics, a leading company offering mobile app development services. Exploring the latest technologies, reading about them, and writing her views have always been her passion. She seeks new opportunities to express her opinions, explore technological advancements, and document the details. You can always find her enjoying books or articles about varied topics or jotting down her ideas in a notebook.
 Follow – https://techhipo.com for More Updates